As a valued member of the Sage family, we prioritise your growth and success above all else. As your business expands and evolves, you may find yourself pushing the boundaries of Sage 50. Our main goal is to ensure that you have the perfect solution to position yourself for success in every stage of your business journey. For many of our customers, the ideal solution has been transitioning to the cloud with Sage Intacct.
Created as a cloud-based solution right from the start, Sage Intacct has enabled countless Sage 50 users around the world to work flexibly and effortlessly. But when should you start thinking about making the switch from Sage 50 to Sage Intacct?
5 signs your business has outgrown Sage 50:
The need to access systems remotely 
With Sage 50, you are limited to just two options for accessing your business's systems: working from the office or setting up a remote-access server. Unfortunately, the former often results in long hours and weekends spent away from your loved ones, while the latter requires investing in infrastructure and additional IT personnel to keep it running smoothly. Not being able to access systems from anywhere, at any time, puts strain on the business's operations and how efficiently they work. 
You have unscalable, error-prone manual processes
It's incredibly easy for inefficient processes that may have worked when you first started out to gradually become the "norm" even though they can't handle growth and expansion. This often leads to the need for hiring more staff as your business grows. Without automation to streamline operations, you risk losing valuable time to manual tasks. Plus, there's an increased chance of errors when manually inputting data, which can further hinder progress. These manual processes ultimately effect your business's ability to thrive, causing you to fall behind and miss out on valuable opportunities.

You're doing too much of your reporting in excel
As your business continues to grow, it becomes increasingly important to have a comprehensive reporting system in place. Unfortunately, Sage 50 lacks the ability to create calculated fields, making it impossible to combine financial and non-financial data for easy analysis, such as tracking revenue generated per sales representative. This limitation often leads to delays and, in some cases, missed deadlines when generating reports for executives and the board. Needless to say, this is a situation that no one wants to find themselves in.
You are experiencing integration issues
Integrating Sage 50 with other software or third-party applications can be quite challenging, resulting in issues with data consistency and the need for manual data entry. Many industries have specific requirements that can only be met by top-notch vendors. When these systems are unable to communicate effectively, it often leads to the adoption of manual workarounds, which can be both costly and time-consuming.
Your mult

i-entity consolidations take hours to days
Because Sage 50 was designed as an on-premises solution, it may not meet the needs of organizations that have multiple business entities. This can result in the need for manual entry of inter-entity transactions to ensure balanced books. As a result, consolidations can become time-consuming, taking hours or even days to complete as data from all entities must be exported and combined in Excel. These delays can have a significant impact on the speed at which books can be closed.
Reasons to upgrade to Sage Intacct
Improved visibility
Sage Intacct offers useful reporting and analytics capabilities, giving you real-time insights into your financial performance. You can customize dashboards and reports to track important metrics, budgets, and KPIs, making it easier to make informed decisions. With Sage Intacct, understanding how your business is performing becomes effortless, enabling it to thrive and succeed. Plus, you'll have the ability to generate the reports you need in just seconds, thanks to calculated fields and unlimited dimensions.
Improved accessibility
Sage Intacct, being a cloud-based platform, offers the flexibility and accessibility you need to access critical financial information and perform tasks on the go. This supports a remote work environment and enables real-time collaboration, ensuring that your business can keep up and seize every opportunity without any time being wasted.
Scalability and profitability
Sage Intacct offers the scalability and flexibility that businesses need to adapt to their changing needs. It efficiently manages increased transaction volumes, multi-entity operations, and complex financial structures, supporting your business's expansion. By automating manual tasks, reducing errors, and optimising financial operations, Sage Intacct can lead to significant cost savings. This ultimately translates into increased productivity and improved financial management, providing a strong return on investment for your business.
The software offers a complete audit trail and meets all auditing requirements. This simplifies the auditing process, ensuring accurate data and compliance during audits. As a result, it saves valuable time and money associated with audits.
Streamlined multi-entity management
With Sage Intacct, your business can effortlessly consolidate hundreds of entities in just minutes, eliminating the need for days of manual work. Additionally, setting up new entities can be done in a matter of minutes without the expense of consultants. This ensures that your valuable resources are not wasted on manual data entry, allowing for seamless updates with Sage Intacct. As a result, delays are reduced, and your business can experience accelerated growth.
Why upgrade to Sage Intacct with Envisage:
Ultimately, Sage Intacct offers a comprehensive solution that greatly enhances your business's financial processes. By automating tasks, ensuring accuracy, and boosting efficiency, this accounting system can truly transform how your finance team operates. With its exceptional advantages specifically designed to address the diverse needs of different industries, investing in Sage Intacct is a wise and strategic decision.
If you're interested in learning more about Sage Intacct, feel free to reach out to our team at Envisage. We would be more than happy to assist you in determining if it's the right solution for your business and help with the software implementation. Our commitment is to provide you with an efficient end-to-end service, and we would be delighted to have a no-obligation conversation with you.
We're excited to announce that we'll be at this year's ERP Head to Head event where we'll showcase Sage Intacct. To learn more and to register, just click below: 
And don't forget to use promo code Envisage20 for an early bird discount.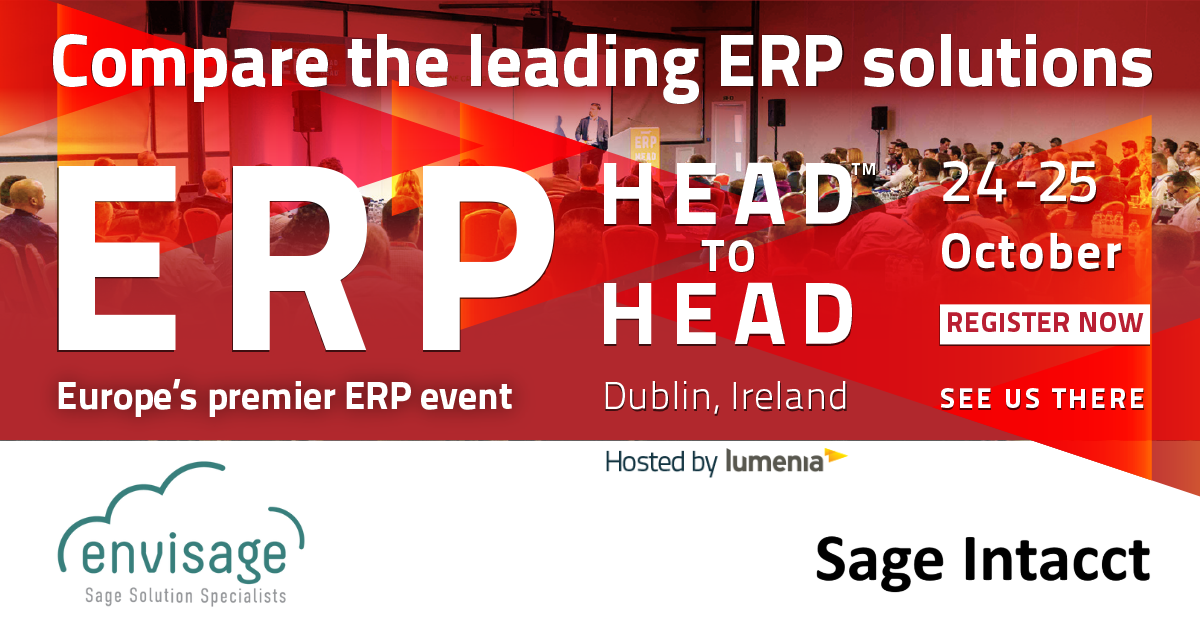 Author: Steve Boyes, Customer Care Director
Steve has been a valued member of the Envisage Team for over five years. In his role as Customer Care Director, Steve oversees project deliveries and customer care. Steve's meticulous planning and scheduling skills ensure that customer projects run like clockwork. Working closely with our project delivery, customer support and account management teams, Steve aligns customer challenges with the best solution for their business, helping customers get real value from their Sage 200 and Sage Intacct investments.